I 'll need to confess here at the start that there are a few Garth Brook songs that I really enjoy.  Rachel and I listened to one of those on Saturday.  It was the song "If Tomorrow Never Comes".
Today is Father's Day and as I was reflecting on all four of my children that I love so much, I thought of Chandler.   I was remembering back a year ago, which I would never have guessed in a million years would be my last Father's Day with my son.
I reached into the front pocket of my back pack and pulled out a folded letter that I have carried around with me for the last year.  It is a prized letter that Chandler wrote to me exactly one year ago today.
It is a letter with a simple message of appreciation for what a father gives his children in providing and raising a family.  It is a message of gratefulness and a message saying 'thank you' and 'I love you'.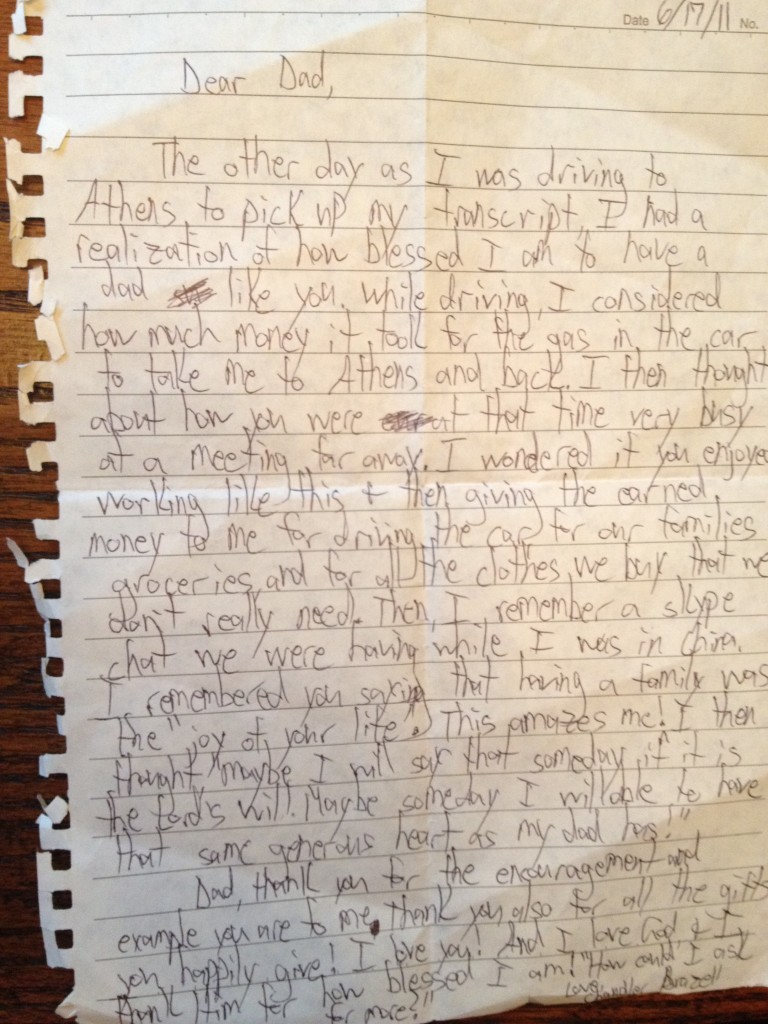 There is much I would love to share and to point out in this letter; but the message I will share today is the mere fact that Chandler had a heart of gratitude, and that he took the time  to write out this message of thankfulness to me, his father.  And Chandler had an extremely busy week that week ; finishing a summer class in college, leaving for Jesus Camp the next day,  Summit 2 week camp next and then vacation to Montana.  I'm sure the thought never crossed his mind that this was his last opportunity to share a message with me before he would leave this earth and enter eternity!
The question I cant get out of my mind is- What if he hadn't taken the time to write this letter and share his love and appreciation with me?  What if he had let the busyness and fatigue cause him to put off what he wanted to share?
Now, really I'm speaking to myself here, but please DONT let the busyness and demands of this life keep you from sharing your heart with those you love.  As Garth Brooks sings "tell that someone that you love, just what your thinking of…if tomorrow never comes."  Thank you Chandler for giving and sharing your self and your heart and for giving me one of the most prized and treasured possessions I will ever have.
Chuck Brazell
PS.  Notice at the bottom of the letter he writes, "I love you..and I love God'.  There is nothing that gives me more joy than to know that my son loves me and that he loves his God.  And there is nothing that matters more NOW and into eternity than that he loves God!   I love you too, son!