While at Jesus Camp last week I was sharing Wednesday morning at the Counselors meeting the fact that we had only 2  full days left to make a difference in these kids lives.  I was encouraging them to 'hang in there' and use the remaining time to its fullest as we were battling 100+ degree weather and serving 100 inner city Dallas youths.
Many times during the week I thought of Chandler and reflected on him being here at camp last year.  He worked hard at last years camp having a large number of challenging kids, but he served and loved everyone of them.  I recognized and spent time with many of them  this week.  One thing that I observed about Chandler last summer and that I have thought of often these last 11 months is that he had a seriousness about him.  He had a noticeable solemness in his countenance.  He had a great week and had a lot of fun with his kids, but there was a pronounced intensity in his actions.  It was a seriousness and an intensity that was present during his short stay at home last summer.
But why the seriousness?  This has been the question I keep asking.  Was it just because he had an intense personality?  Was he changed from his time in China?   Did he perceive or sense something in his spirit possibly telling him his time was short?  Unfortunately, I don't have a sure answer.  But in any case,  last year on this day he had just 30 days left to live on the earth!
Now I don't think Chandler knew that he had only 3o days…but in reality that is all he had.  He only had 30 days before he would take his last breath of air and slip behind the veil and meet his creator.  30 days before he would begin his eternity with God!   As time allows this month (July) I hope to share a few thoughts about this topic and about Chandler last days, but for now I would like us to ask ourselves:
What if you had just 30 days to live?  Go ahead, ask the question to yourself, "what if I had only 30 days left to live?"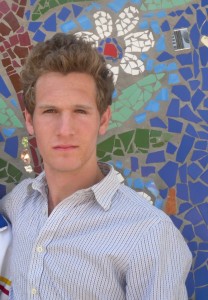 What would I do differently?  Would I say anything differently?  Would you act any differently?  Would you say 'no' to more things?  Would you say 'yes' to more things? How would you change today?  What would your July 2012 be like?
For some reason we live in an illusion that we have unlimited time on earth before us.  We live under the idea that we always have tomorrow.  But yet Jesus encourages us to live one day at a time. We're reminded that we don't know what will happen tomorrow. And that life is a vapor, that it is here today and gone tomorrow (James 4:14).  This really could be your last 30 days.  So- redeem (make the most of) your time!  Make your days count (Ephesians 5:16). You dont know when it will be your last day!
The Clock of Life
(a poem that Chandler & I enjoyed)
The clock of life is wound but once,                                                                                           And no man has the power                                                                                                             To tell just when the hands will stop                                                                                           At late or early hour.
To lose one's wealth is sad indeed,                                                                                               To lose one's health is more,                                                                                                         To lose one's souls is such a loss                                                                                                That no man can restore.
The present only is our own,                                                                                                         So Live, Love, toil with a will                                                                                                   Place no faith in "Tomorrow"                                                                                                     For the clock may then be still.
-Robert H. Smith                                                                                                                                 
Although I didn't get to spend all of Chandler's 30 days with him, I loved every one that we had together! Chandler spent his last 30 days well!
Make today count!
Chuck Brazell