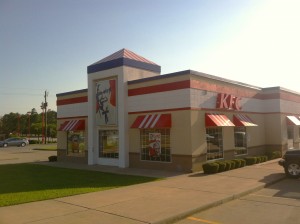 Last week Rhonda and I went to Kentucky Fried Chicken here in Tyler for dinner.  Now we're not Kentucky fried fans, but it had been exactly a year to the day that Chandler, Rhonda and I had eaten there together while the other kids were out of town.  Something happened that night at the restaurant with Chandler that I will never forget.
The only people in the restaurant that night were us and a small family with a mentally disabled boy.  After placing his order, Chandler walked past the other family on his way to our table.  The mentally disabled child called out to him in a shockingly loud, uncontrolled voice, "HELLLLOO!".  Chandler turned and grinned at him,  said hello back, then continued on to our table and sat down to eat.
After thanking God for our food, Rhonda and I began to eat.  But something was wrong…Chandler was just starring down at his food unable to eat, and wouldn't participate in our conversation.  After a few minutes, he got up and went to the restroom and was gone for quite a while.  When he came back his eyes were blood shot and his face
was red. Clearly Chandler was not feeling well, and we were concerned about him.  We began to question Chandler about why he wouldn't eat and what was wrong.  What he shared with us showed us his TRUE condition.  Chandler told us that he was so grieved over the disabled child's condition that he just didn't have an appetite.  But even worse than that, Chandler was so grieved over his own response to the child that he had gone to the restroom to weep.  He was so disappointed in himself for not stopping to talk and listen and share with this special kid and his family.  Chandler felt like he had missed out on an opportunity God had given him to share His love with a valuable and precious child of God.
Lessons Learned
As I reflect back on this evening there are several lessons worth considering and learning from.
1)  First, Chandler's response reveals the sensitivity and the tenderness of his heart toward others, especially those less fortunate.  He had returned from China only  two weeks before and we already knew that there was something different about Chandler.  How does a heart become so soft?
2)  This story is also a reminder that Chandler wasn't perfect.  He would be the first to tell you that. And he often shared his failings with his closest friends and family.  Chandler was a normal young man that struggled with the same things we all struggle with. But somehow, amidst his own pain and own struggles God was able to soften and shape his heart into a heart of love.
3) How did Chandler respond to his failures?   Well, this night at KFC when he failed to respond with the love he felt he should have, he immediately got alone with his Father, confessed his wrong heart and purposed to love more like Christ the next time God brings someone in his path.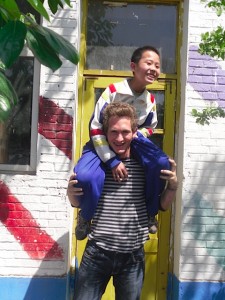 Well, the chicken wasn't very good that night, but the lesson we learned from our son about how to value and love every person God places in your life was wonderful food for our souls.  We will always remember the teary eyes and tender heart of a young man, and the love he had for a handicapped boy at Kentucky Fried Chicken.  I pray we will also remember to take the time to stop, listen and share God's love with each person He brings in our path and to value every special human life.
As Chandler often said…."it takes a lot of love to live!"
Love,  Chuck & Rhonda
Beloved, let us love one anther,  for LOVE is of God; and everyone who LOVES is born of  God and knows G0d.  The one who does not LOVE does not know God, for God is LOVE. I John 4:7-8