"HI, MY NAME IS JIMMY!  WHAT'S YOUR NAME?"  This phrase is one of many thoughts that Chandler (Jimmy) wrote on his bed posts and slats as he was going to sleep each night.
One night this week, a night I was really missing Chandler, I laid down on his bed and looked up.  And there was this phrase, written in bold letters on the upper bunk slat.  I'm not exactly sure when he scribbled this saying, but I'm guessing that it was last summer before his first trip to China.  He was looking for a comfortable way to start a conversation with people he didn't know.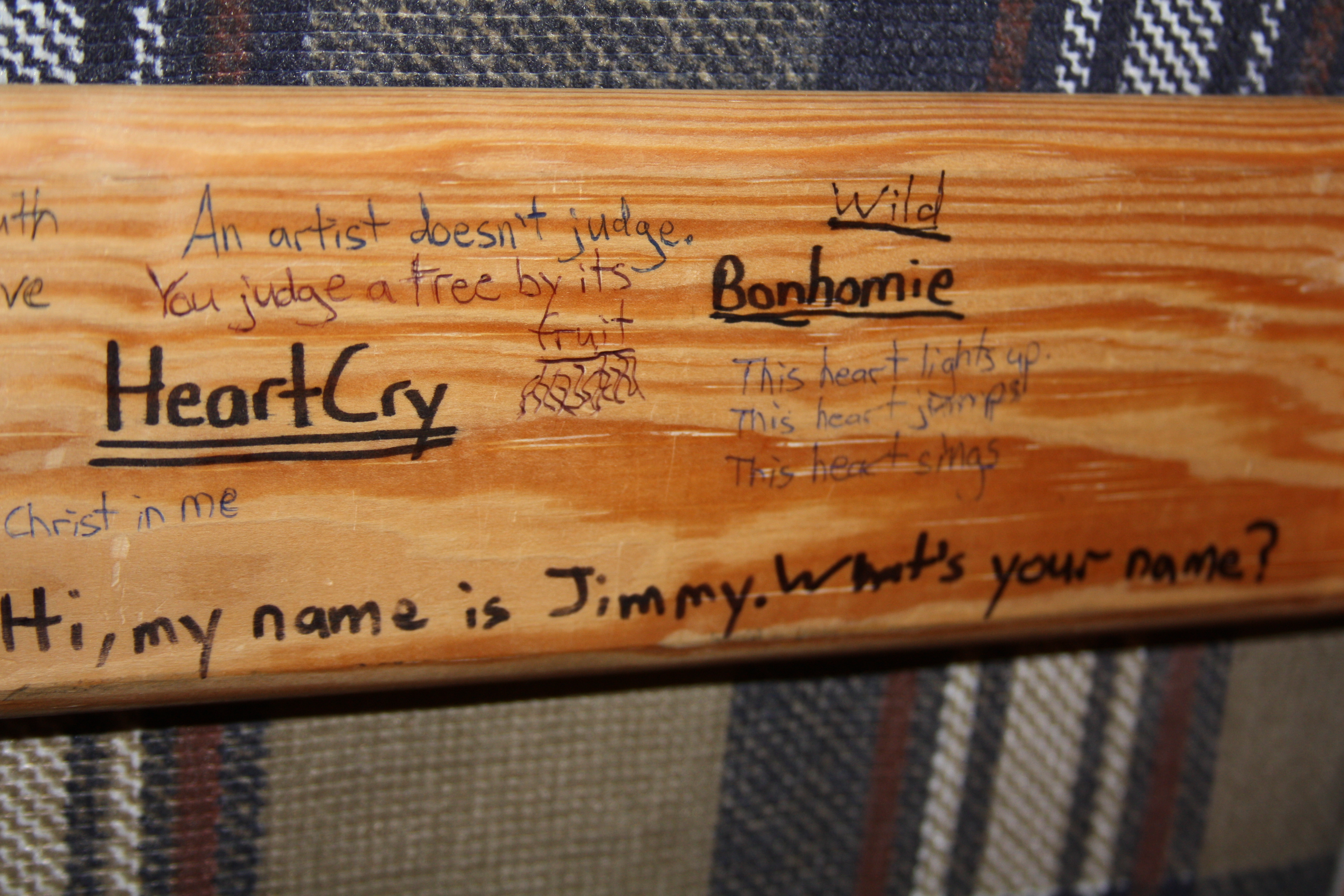 (slat above Chandler's bed)
I decided to use this quote, one of Chandler's introduction lines, as a way to launch this new blog and as a way to introduce several goals that I have.  The reason I have started this blog in the first place is share with you who Jimmy is!  We have been asked by many friends to share Chandler and the many treasures that he left behind.  So, It is my desire to share with you his heart, his deep thoughts, his songs, his joy, his faith and basically share his life with you.  Through this blog I also want to point to Christ.  I want to give glory to Him who Chandler loved and served, and now is in the presence of and will forever worship!  LastIy, I hope to encourage and challenge all of us who read these posts to live our lives intentionally for our King, never taking a moment for granted but living each day to its fullest.
1) "HI, MY NAME IS JIMMY…"
Chandler truly wanted you to know and understand who he was.  He risked your impression of him to be open and to share details about his life.  Chandler was transparent and was willing to share his passions and his struggles.  He wanted you to know the person Chandler.  The name Chandler means " bringer of light".  And that is exactly who he was; a bringer of The Light!
2) "…WHAT'S YOUR NAME?"
One amazing thing about Chandler was that he sincerely wanted to know you, and who you were.  He believed everyone "has a story to tell", and he wanted to hear it.
I remember last summer I encouraged him to start a lawn mowing business.  So I helped him create a brochure, we rehearsed some sales lines and off he went around the neighborhood to line up yards to mow.  He was gone almost the whole day.  When he finally returned I was eager to hear how many he had found.  Zero!  No new yards, but many new friends.  He would get into a conversation with the neighbor and at a few of the homes spent close to an hour talking about life and listening to their story and even praying with them.  That was Chandler!  When he asked you your name he was asking you to share your story.  And he really wanted to listen.  He also wanted to take your conversation and turn it towards Christ!  And that's because he was concerned about you!  That's why everyone considered him to be their best friend.
THE QUESTION!
So, I end this post with the question Chandler would ask.  "What is YOUR Name?"  More specifically, who are You?  What is important to you?  Do you slow down enough to get to know those the Lord puts in your path? Do you care?
Look around and take notice of the people around you.  These are real people.  These people are men and women and children that God loves and is concerned about.  People who have an eternity before them to be spent in either heaven or hell.   Take an extra minute and start a conversation with them by asking "What is your name?"
My Name,
Chuck Brazell- Chandlers dad!