In January's post ' To Truly Live is to Truly GIVE',  a challenge was  presented:  a challenge to make 2013 a year of Giving.  This is a challenge to give of ourselves , and we highlighted a few examples of Chandler and how he was a giver and how he gave of himself.  In this post I would like to share a short and interesting story that I believe you will enjoy hearing.
This story is shared by Tara Pattengale, a fellow Teenpact staffer who spent time with Chandler while he was staffing in the Washington State Class in spring of 2010.   After his accident Tara wrote a letter to Chandler in a beautiful blog post that I hope to share sometime.  She writes about Chandler:
"…also, there was that time when you randomly bought an extra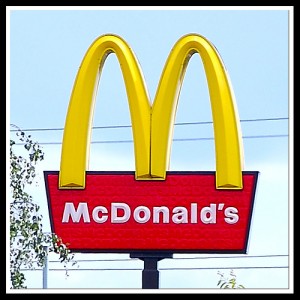 McChicken sandwich (after the Mars Hill church service) because the Lord told you to. The next thing I know you were gone from across the table.  After looking around the restaurant I saw you over at a booth with a homeless guy. I heard you say, "Hello Sir! My name is Jimmy. What's yours? Would you like my sandwich? I bought an extra one for some reason and I don't want both. J  Sir, could I ask you a question?…" you paused and then continued, "If you could ask God one thing what would it be and why? I always think it's so fascinating to hear people's thoughts on that."  After a few moments of talk with "Michael the Archangel" you asked him if you could pray for him. Despite his negative reply you put your hand on his and prayed.  I was amazed at your utter joy when he jumped up and left. You were beaming.  "At least I gave him a sandwich, he was really hungry," was your only reply."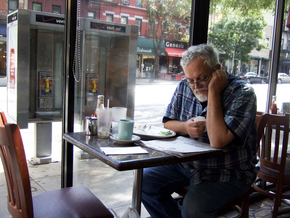 Since hearing this story I have learned of  several similar instances where Chandler would order extra food and share it with someone while sparking a conversation with that individual.  Sam walker, one of Chandler's best friends in Tyler shares a time when they were at an Arby's and Chandler bought an extra  sand which and went looking  for a needful person.  They found someone in need and both he and Sam sat down and gave and shared with this man.
Anyway, regarding this story there are at least 2 key points for us to consider:
1) Chandler was a GIVER!  He gave of himself and gave of his money, time and possessions.  Those who spent time with him would agree and could share how he invested in their lives.  In this case, he shared a McDonalds sandwich.  But he didn't just give a sandwich.  Notice how he also brought God into the conversation.
2)  Chandler was a DO'er.  When he felt the Lord leading him to do something, he was obedient.  He didn't wait for a better time.  He didnt put it off. He didn't forget about it. He acted!   In the May 2012 post I shared a post "Kentucky Fried Love" where we see his remorse at a time when he didn't act.
James 1:22 -But be Doers of the word, and not hearers only, deceiving yourselves.
Hebrews 13:2 -Do not forget to entertain strangers, for by so doing some have unknowingly entertained angels.
What is God asking you to do?  Who is He asking you to share with today?  or, to talk to today?  Don't ignore the Holy Spirit. Don't put it off.  Obey! As we are obedient and faithful, you will be excited to see more opportunities that He will give you.  Be a Giver!  Be a Doer!
Lets Go MAD!,  Chuck
PS.  If you are looking for a good conversation opener…try buying an extra cheeseburger!

PSS.  If looking for a good line to take a conversation to the spiritual, try Chandlers great line he used in this story:  "if you could ask God one question, what would it be?"